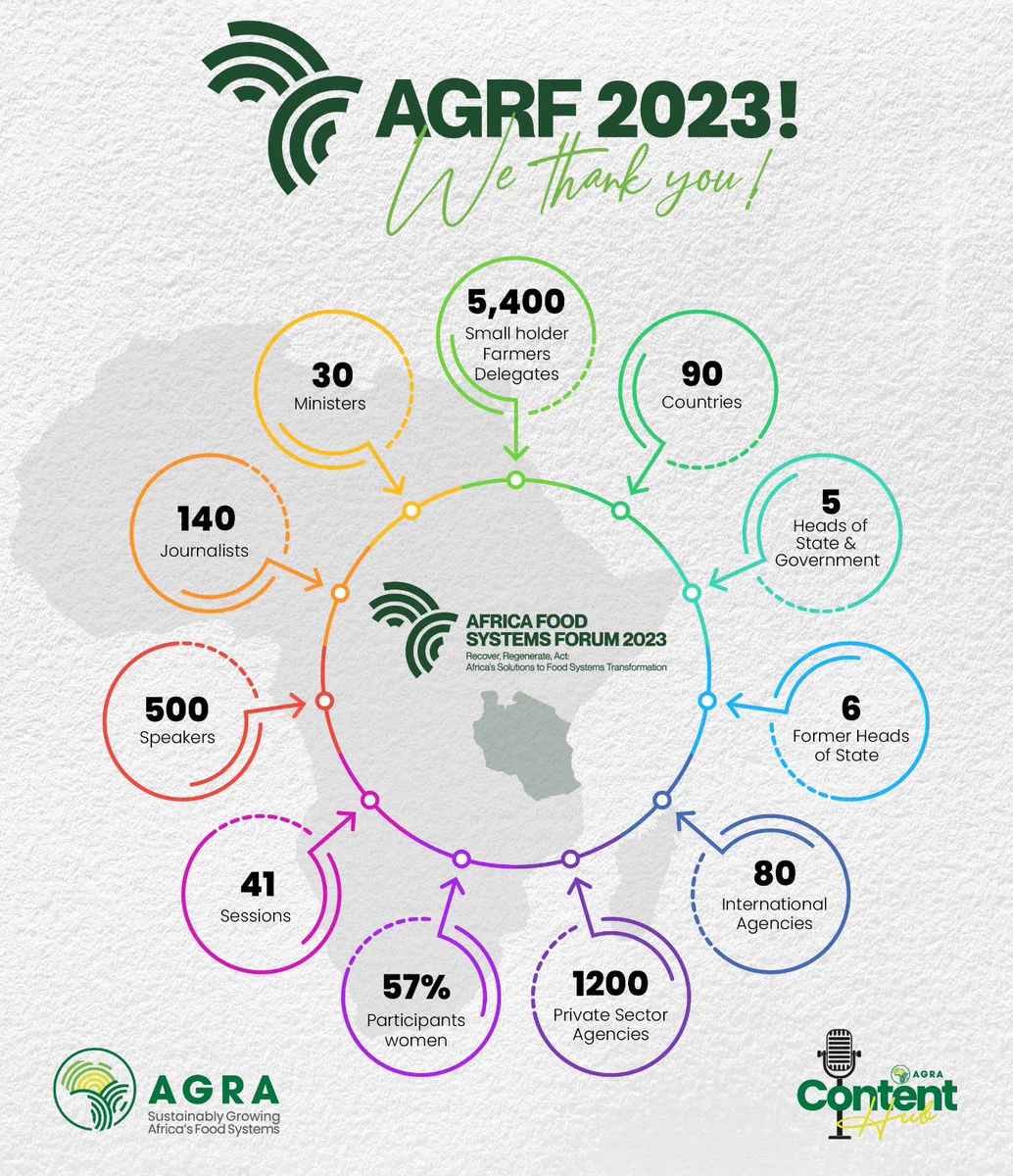 Investment, Innovation, and Inclusivity: The Pillars of Transformation at the Africa Food Systems Forum 2023
by Anthony Muchoki
The picturesque city of Dar es Salaam September 4 to 8, 2023 became came the epicenter of transformative dialogues, where innovation met tradition at the just-concluded Africa Food Systems Forum 2023. Hosted by Tanzania and presided over by President Samia Suluhu Hassan, the forum served as a fertile ground where seeds of change were sown to revolutionize the African agricultural sector.
Unveiling the Investment Goldmine
The AGRF Agribusiness Dealroom emerged as one of the significant highlights of the forum, promising to redefine the dynamics of African agriculture. Governments, SMEs, and investors convened to unleash a remarkable USD $10.2 billion investment pipeline. This economic thrust focused on critical sectors such as rice cultivation, livestock farming, and fisheries, setting the stage for a brighter, self-sufficient future for Africa.
At the heart of this initiative lies the potential to bolster economic growth across Africa, with an emphasis on empowering regions through structured value chain development. The unveiled investments, including substantial national scale investments and SME focused funds, promise to usher in an era of unprecedented growth and opportunities.
Digital Revolution in Agribusiness
The forum also spotlighted the growing significance of digital technologies in revolutionizing Africa's food systems. The attendees acknowledged the vital role of e-commerce, digital technologies, and innovative market platforms in enhancing market efficiency and sustainability. By embracing these advancements, the continent stands poised to elevate trade, curb food waste, and improve nutrition outcomes – ushering in a digital revolution in the African agrarian sector.
Pioneering Leaders Spearheading Change
The Presidential Summit became a beacon of hope and collaboration, illustrating a unified front in transforming Africa's food systems. Leaders like H.E. Macky Sall of Senegal, H.E. General Évariste Ndayishimiye of Burundi, and H.E. Dr. William Samoei Ruto of Kenya joined host President Hassan in sharing insights, challenges, and potential solutions to foster a sustainable and resilient food system in Africa. The dialogue reiterated the role of livestock and fisheries as vital contributors to the agricultural landscape, emphasizing the synergy between modern inputs and traditional knowledge systems.
Celebrating Innovators through AGRF Awards
The AGRF Awards Ceremonies added a celebratory note to the forum, honoring the pioneers shaping the future of African agriculture. From the Africa Food Prize to the Go Gettaz Agropreneur prizes, the awards celebrated the spirit of innovation and entrepreneurship in the agricultural sector, encouraging others to follow suit.
As the curtains fell on this landmark event, a renewed sense of hope and commitment permeated through the delegates. United under the banner of transformation, regeneration, and nurturing, the forum underscored the importance of collective efforts in carving out a sustainable and prosperous future for Africa and its people.
The Africa Food Systems Forum 2023 has thus become a cornerstone, fostering innovative strategies and inclusivity, setting the continent on a path of remarkable transformation in the agricultural sector.