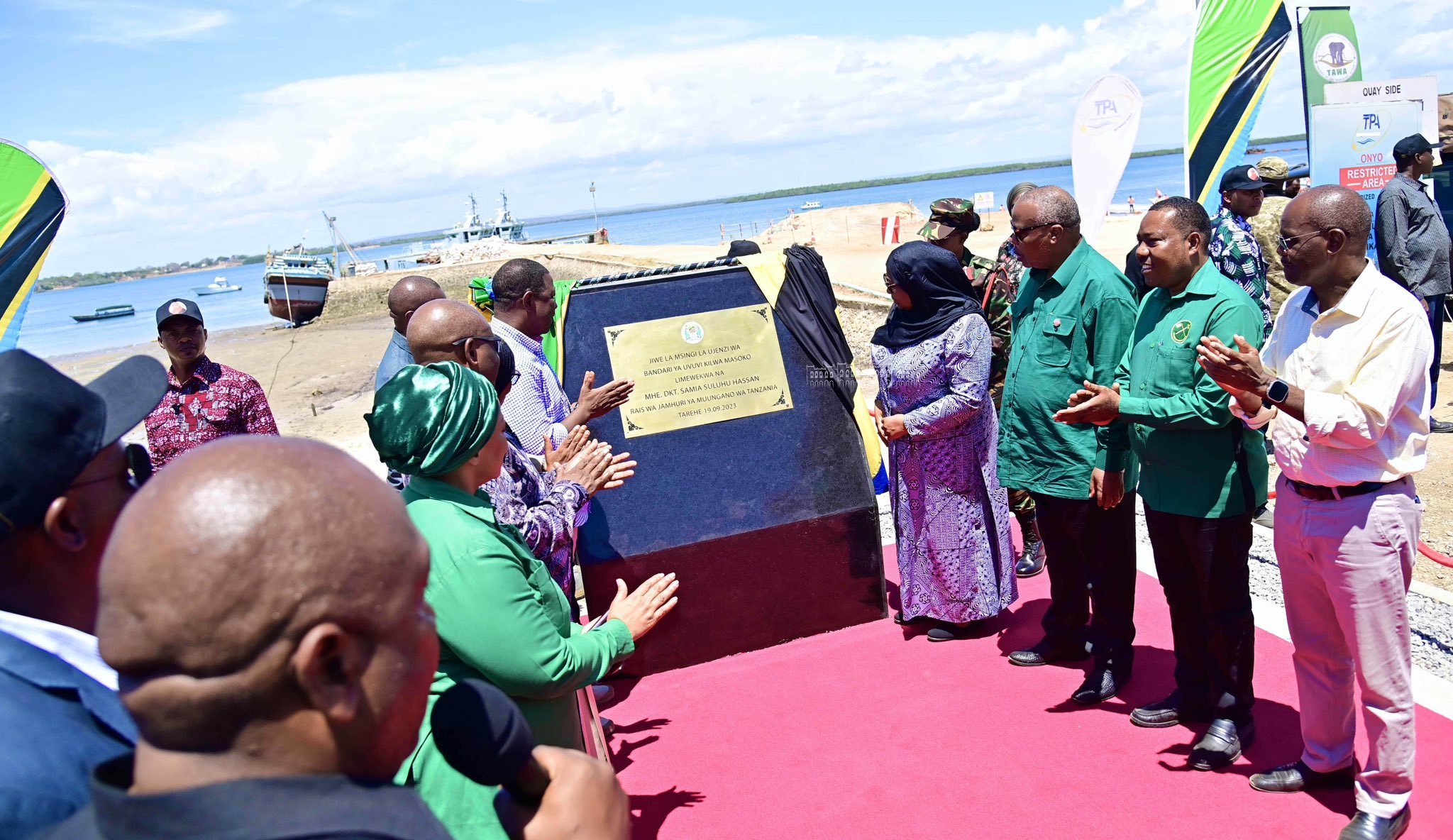 Kilimokwanza.org team
Tanzanian President Dr. Samia Suluhu Hassan's southern tour, brimming with initiatives and projects, is not just a testament to what has been achieved but also a blueprint for what lies ahead in the developmental journey of Tanzania. The citizens of Mtwara and Lindi, like many Tanzanians, find ample reasons to rally behind their leader, who is proving that effective governance is, indeed, achievable.
When Tanzanian President Dr. Samia Suluhu Hassan recently completed her seven-day transformative tour to the southern regions of Mtwara and Lindi, she left an indelible impact that promises not just short-term gains but also long-term developmental milestones for the regions. The President's series of inaugurations and on-site inspections have breathed new life into various sectors—from healthcare and water treatment to fishing and transportation infrastructure. Here's an in-depth look at how President Dr. Samia's ground-breaking visit stands as a significant benchmark for what dedicated, listener-centric leadership can achieve.
Historic Investment in Healthcare
The crown jewel of the visit was the inauguration of a referral hospital in the southern region. With an allocated budget of more than 24 billion Tanzanian Shillings, the hospital is poised to become a hub for cutting-edge medical services. Modern diagnostic machines, including CT Scans and X-Ray devices valued at 7.5 billion shillings, are a testament to the government's commitment to healthcare.
But that's not all—the President also earmarked another 17 billion shillings for a Regional Medical Store. The holistic healthcare approach answers the long-standing needs of the regions. "Listening to Tanzanians and responding to their needs has always been my guiding principle," Dr. Samia emphasized, thereby elucidating the secret behind her administration's effectiveness.
Water for Life
One of the urgent challenges facing the residents of Mtwara has been the shortage of clean and safe drinking water. With a vision to improve lives, President Dr. Samia launched a 3.4 billion shilling project to replace a water treatment facility that had been in operation since 1958. The new project promises to filter an impressive 12.5 million liters per day, thereby greatly improving water quality and availability.
Empowering Fisheries and Agriculture
A visit to Kilwa port opened up another chapter in President Dr. Samia's ongoing narrative of transformation. Acknowledging the vital role of fishing and agriculture in the region, she distributed 160 modern boats worth over 280 billion shillings. In a strategic move, these boats were provided under a favorable loan arrangement, aiming to empower women and young people in the region. While smaller boats are intended for seaweed farming and cargo operations, larger vessels will be utilized for deep-sea fishing, thereby diversifying income sources for local residents.
Job Creation Through Infrastructure Development
The President's visit was also an occasion to announce infrastructural projects that could be game-changers for the region. With an allocation of 11.5 billion shillings earmarked for the fishing sector, Dr. Samia aims to catapult the industry from contributing a mere 1.8% to 10% of the nation's GDP by 2036.
Additionally, a 50 km road linking Mtwara to Mnivata was initiated, forming part of a more extensive 210 km network that promises to stimulate the regional economy. By improving connectivity between agricultural zones and markets, the President aims to give a much-needed boost to local cashew nut production.
Fiscal Transparency and Planning
The President's approach to these monumental projects incorporates meticulous financial planning and transparent execution. Payments to contractors, consulting engineers, and compensation for landowners affected by the projects were detailed, setting a precedent for fiscal responsibility and governance.
Citizen-Centric Leadership
Dr. Samia Suluhu Hassan's tour has more than just developmental statistics to show for—it is a reflection of a leadership style deeply rooted in listening to its citizens. By focusing on multi-sectoral growth, her administration is painting a holistic picture of what balanced regional development looks like.

The President's landmark visit has instilled a reinvigorated sense of hope and opportunity among the citizens of Mtwara and Lindi. Her forward-looking, action-oriented leadership is precisely the kind Tanzanians have yearned for—leadership that moves beyond mere words into the realm of tangible achievements. As Tanzania's President continues her transformative journey, she leaves in her wake not just concrete structures but also a renewed sense of what's possible for a nation when its leader is a listener, a doer, and a visionary.