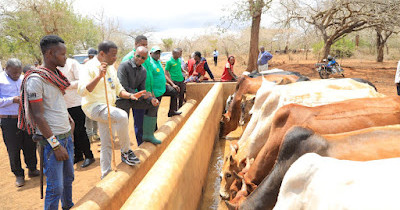 In the lush landscapes of Handeni district in the Tanga region lies Msomera, a village poised to be more than just a name on a map. As Hon. Abdallah Ulega, the Tanzanian Minister of Livestock and Fisheries, strolled through its vibrant community, it became clear that Msomera is on the verge of a renaissance.
A Model in the Making
The central government, under the vision of President Dr. Samia Suluhu Hassan, envisions Msomera as the shining beacon of modern livestock farming in Tanzania. Ulega's recent visit, which witnessed him inspecting drinking ponds, demonstration grazing lands, and water wells, was not just a routine ministerial tour but a signal of greater things to come.
"The evolution we're planning for Msomera is comprehensive," Ulega notes, speaking of initiatives that span from clearing bushlands for grazing agriculture to developing sophisticated water storage facilities. "We're not just looking at immediate results but creating a sustainable blueprint that can be replicated across the country."
Beyond Infrastructure: A Holistic Vision
While the tangible infrastructure development is evident, the underlying agenda is the holistic development of the livestock farming community. This means a focus on fattening the livestock and introducing modern farming practices, which, in turn, amplifies the income potential for local farmers.
Farmers from across Tanzania will soon look towards Msomera, not just as a village but as an academy of sorts. As Ulega emphasizes, Msomera will serve as a model where aspiring livestock farmers can learn and adopt forward-thinking farming methodologies.
Collaborative Endeavors
Such a monumental task requires seamless collaboration. Hon. Albert Msando, the District Commissioner of Handeni, understands this all too well. His promise of the district government's unwavering support underscores the collaborative spirit powering Msomera's metamorphosis.
A Voice from the Past, A Vision for the Future
Echoing the collaborative sentiment is Elder Saning'o Ole Telele, the former Deputy Minister of Livestock and Fisheries. With gratitude towards President Hassan's developmental focus on Msomera, Telele offers a reminder and an aspiration: to balance development with conservation, ensuring places like Ngorongoro continue to be revered wildlife sanctuaries.