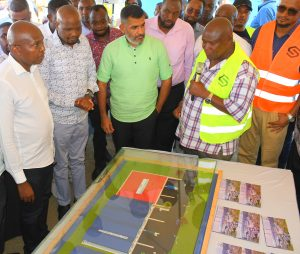 Mombasa's Industrial Parks Signal Economic Revolution
Empowerment and Exportation at the Forefront of Development
Mombasa, a picturesque coastal town renowned for its white sandy beaches and deep-rooted history, is poised for an economic metamorphosis. With the initiation of the County Aggregation and Industrial Parks (CAIP) in Mombasa County, it's clear that a radical transformation is on the horizon.
Farming Revolution
For too long, small-scale farmers have been the unsung heroes, operating in the shadows of the country's massive industries. However, CAIPs are now emerging as a beacon of hope and empowerment. These parks are not just mere structures; they represent dreams, aspirations, and the bright future of every Kenyan farmer.
Under the CAIP framework, farmers are no longer mere producers. They become vital contributors to a broader national strategy geared toward leveraging Kenya's strategic position in East and Central Africa. This revolutionary model is export-oriented, ensuring that products, cultivated with passion, find their way to the global marketplace.
The Mombasa Blueprint
The groundbreaking ceremony for the Mombasa Industrial Park marks more than just the start of a construction project. It symbolizes the synergized efforts of national and county governments, keen on unlocking the immense potential Mombasa holds.
For the locals of the Bonje area, this park presents an opportunity. An opportunity to harness the full potential of indigenous treasures, like the coconut plant, which has been underutilized due to lack of proper facilities. The park guarantees value addition, ensuring that farmers get a premium for their produce.
Mombasa's strategic position, with its proximity to the ocean, ensures that it remains at the epicenter of this transformation. Cabinet Secretary Moses Kuria's vision of using the coastal region to rejuvenate the nation's economy is not just ambitious—it's visionary.
A Blossoming Partnership
The collaboration between the national and county governments reflects unity, with both entities sharing the Sh.500 million cost for the park's establishment. Beyond the park, there's an overarching strategy in play. An 11km extension of the Standard Gauge Railway to Dongo Kundu bypass, among other ventures, signals the scale of transformation the coastal region is about to experience.
Mombasa Governor Abdulswamad Nassir, enthusiastic about the prospects, emphasizes the county's potential as a hub for various sectors. His vision for the county paints a picture of innovation, investment, and incredible opportunity.
Safety and Security
The tangible benefits are evident: job creation, economic growth, and value addition. But there's an intangible benefit too—a sense of security. As Mombasa County Commissioner Abdirisack Jaldesa highlighted, ensuring the safety of these parks is paramount. Not just for the sake of investments but for the dreams and hopes they represent.
The promise of employment opportunities means a brighter future for the youth, steering them away from crime and directing them towards purposeful engagements.
As the first rays of the morning sun pierce the horizon over Mombasa's shoreline, Governor Abdulswamad Nassir stands on the precipice of change. Overlooking the expansive terrain earmarked for the County Aggregation and Industrial Parks (CAIP), his vision of a transformed Mombasa and an empowered Kilimokwanza is gradually becoming a reality.
The Governor's Dream
Governor Nassir's journey began not with a vast dream, but with a simple question: How can we leverage Mombasa's strategic position and natural resources for the betterment of its people? His leadership, grounded in foresight and determination, has been the cornerstone of Mombasa's radical transformation.
In previous years, the coastal town of Mombasa, renowned for its pristine beaches and rich cultural heritage, thrived predominantly on tourism. Yet, Nassir recognized that beneath its sandy stretches and swaying palm trees lay untapped potential. The CAIP initiative is a manifestation of his intent to bridge the gap between potential and prosperity.
From Concept to Reality
CAIP is not just a project; it is an embodiment of Nassir's commitment to his people. By focusing on the primary producers – the small-scale farmers – the governor has aimed at the heart of the county's grassroots. He understands that for Mombasa to flourish, its foundation, the farming community, must be robust and thriving.
CAIPs, being farmer-centric and export-oriented, offer a two-fold advantage. They empower farmers by ensuring their produce reaches global markets, and they bolster Mombasa's position as an export hub, making it a linchpin in Kenya's economic strategy.
Harnessing Local Potential
Governor Nassir's emphasis on the Bonje area signifies his understanding of the local ecosystem. By acknowledging the untapped potential of indigenous resources like the coconut plant, he sheds light on an often-neglected aspect – local flora and its potential role in the global market.
Mombasa's CAIP stands to revolutionize not just farming but also agro-processing. It aims to add value to the raw products, ensuring farmers are not short-changed for their labor and dedication.
Partnerships and Progress
Realizing a dream of this magnitude requires collaboration. Nassir's ability to forge a strong alliance with the national government speaks volumes about his leadership. Sharing the Sh.500 million cost equally is not just a financial decision; it's a symbolic gesture of unity and shared vision.
Furthermore, the governor's open invitation to investors and entrepreneurs showcases his inclusive approach. He doesn't see CAIP as a standalone project but as a catalyst for broader economic growth, spanning various sectors. From the blue economy value addition to horticultural aggregation and technological partnerships, Nassir envisages a multi-faceted economic boom.
Youth at the Forefront
The CAIP initiative, while providing an avenue for export and farming growth, addresses another critical issue: unemployment. The promise of 30,000 jobs, coupled with the Special Economic Zone's potential to employ another 20,000 individuals, is groundbreaking.
Governor Nassir's focus on creating employment opportunities reflects his dedication to Mombasa's youth. By providing them with avenues for legitimate work, he aims to steer them away from the perils of crime and disillusionment.
Safety and Beyond
While economic progress is paramount, the governor understands the need for security. Aligning with Mombasa County Commissioner Abdirisack Jaldesa, Nassir ensures that every strategic investment in the county remains safeguarded.
Jaldesa's commitment to employ all security systems to protect government projects signifies more than just safeguarding infrastructure. It reflects a joint dedication to securing the dreams, aspirations, and futures of thousands of Kenyans.