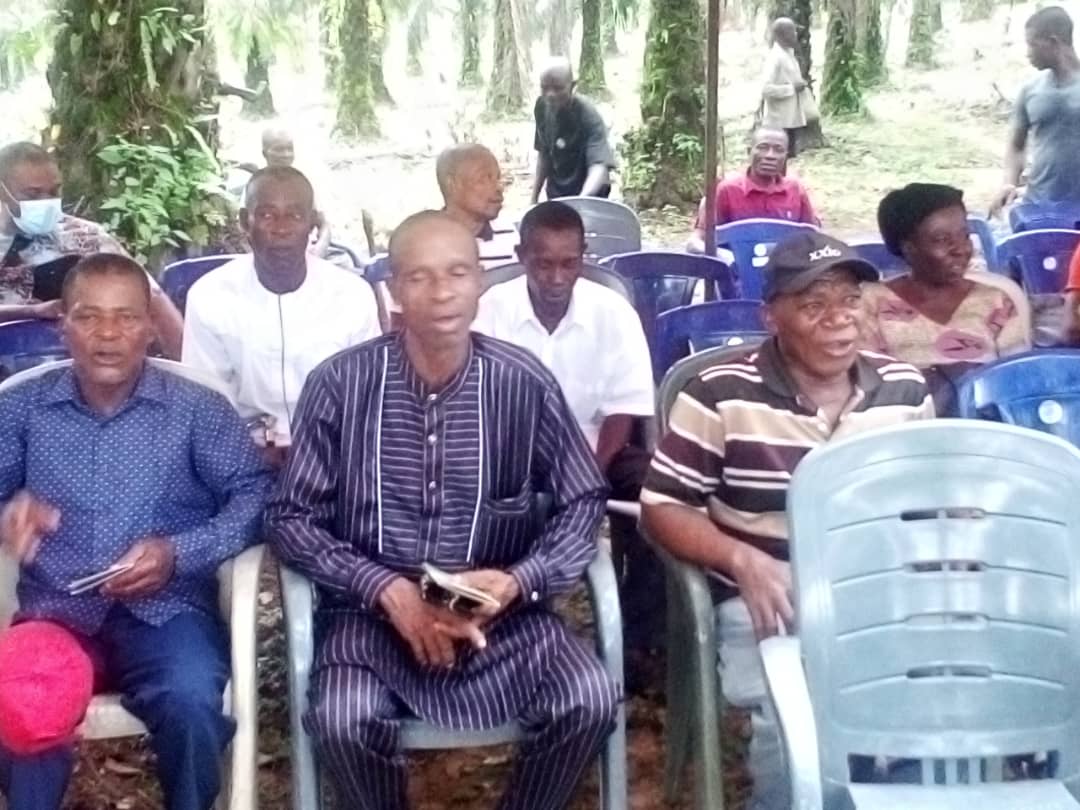 In a groundbreaking endeavour to revolutionize oil palm farming, the Institute of Agricultural Research and Training (IAR&T), in collaboration with the Nigerian Institute for Oil Palm Research (NIFOR) and the invaluable support of OCP Africa, has introduced a game-changing blend of specialized fertilizers explicitly tailored for oil palm farmers in Akwa Ibom State.
The remarkable initiative was unveiled during a farmers' field day at the prestigious Offitel Oil Palm farm in Mbak Atai, in the heart of the Itu Local Government Area. Dr Vincent Aduramigba-Modupe, the d Project Coordinator, took centre stage to announce the commencement of the oil palm speciality fertilizer validation project, shedding light on its immense benefits to the local farming community.
Dr Aduramigba-Modupe's address was filled with enthusiasm and anticipation as he outlined the far-reaching implications of this collaborative effort. The innovative blended fertilizers, meticulously formulated through extensive research and expertise, are set to redefine oil palm cultivation in the region, boosting crop yields and ensuring sustainable farming practices.
Dr. Vincent Aduramigba-Modupe, a renowned soil scientist associated with IAR&T, enthusiastically shared details about the groundbreaking fertilizers that OCP Africa blended exclusively for oil palm cultivation. These specialized fertilizers have been meticulously developed to enhance yields and productivity, benefiting oil palm farmers significantly.
Speaking about the fertilizers, Dr Aduramigba-Modupe highlighted their origin within the comprehensive soil survey and soil fertility mapping conducted for the oil palm particular fertilizer development project, overseen jointly by IAR&T and NIFOR.
The specialized fertilizers, developed through the combined knowledge and resources of IAR&T, NIFOR, and OCP Africa, possess unique properties tailored to address the specific nutritional needs of oil palm trees. This precise customization will optimize growth, enhance productivity, and contribute to the overall health of the oil palm plantations.
In 2021, the ambitious project took flight, primarily focusing on the Southern States renowned for their oil palm cultivation, except Bayelsa and Ebonyi, due to prevailing security challenges. Dr Aduramigba-Modupe elucidated the project's methodology, emphasizing the meticulous collection of soil samples and oil palm tissue for comprehensive analysis. This critical analysis served as the foundation for developing specialized fertilizers tailored to the specific needs of the South-South, and South-East regions and the national recommendations at large.
With unwavering commitment, Dr Aduramigba-Modupe further elucidated that the ongoing validation project aims to establish a clear distinction between oil palm trees subjected to fertilizer application and those left without such intervention. This comparative study will provide valuable insights into the transformative impact of specially formulated fertilizers on oil palm cultivation.
"It is important to acknowledge that this visionary project is a collaborative effort between the esteemed Nigerian Institute for Oil Palm Research (NIFOR), the Institute of Agricultural Research & Training (IAR&T), and the generous support of OCP Africa as the project's benefactor," Dr Aduramigba-Modupe affirmed, underscoring the significance of the partnership in driving the project's success.
"The project, which commenced in 2020, spans over four years, and its primary objective is to address the challenges farmers face. To gather comprehensive data, we visited oil palm-growing regions in all Southern States, excluding Bayelsa and Ebonyi, due to security concerns.
"During these visits, we diligently collected soil samples and palm tissue, subjecting them to meticulous analysis to identify the underlying soil deficiencies. We developed three specialised fertilisers based on the insights gained, each formulated to cater to specific regions. We have a tailored fertilizer for the South-West, another for the South-South and South-East, and a national recommendation encompassing broader areas.
"What sets these fertilizers apart is the inclusion of carefully balanced micronutrients and macronutrients. They have been exclusively blended to meet the specific nutritional requirements of oil palm and should not be used for other crops such as maize, cocoa, yam, or cassava."
Dr Aduramigba-Modupe passionately emphasized the importance of utilizing these specialized fertilizers for oil palm farming, highlighting their precision and suitability for optimal crop growth and enhanced productivity.