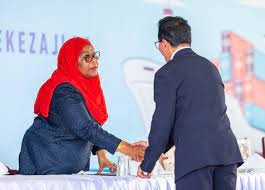 Dodoma Regional Commissioner, Ms. Rosemary Senyamule, has thrown her unequivocal support behind the transformative deal between the Tanzanian government and global port operator DP World, stating that it marks a historic turning point for the nation's ports.
The momentous event took place on October 22, 2023, at State House Dodoma and was graced by Her Excellency, the President of Tanzania, Dr. Samia Suluhu Hassan, and the Vice President, Dr Philip Isidory Mpango.
In her address at the ceremony, Ms. Senyamule warmly welcomed all distinguished guests and emphasized the pivotal role of the Dodoma Region in these groundbreaking developments. She began her speech by commending President Samia Suluhu Hassan for her visionary leadership and her adept handling of the challenges that come with transformative changes.
She stated, "Your Excellency, being a leader means dealing with the intricacies of these dynamics because you understand the benefits and the beauty of the initiatives. The advantage lies in your ability to make decisions while involving those who grasp the importance and benefits of such endeavors."
Ms. Senyamule acknowledged that leaders play a crucial role in driving change and recognized that there are various groups of people when it comes to accepting change. She went on to commend President Hassan as a dynamic and resolute leader, emphasizing the importance of leaders making decisions that benefit the nation while engaging those who comprehend the significance and advantages of such initiatives.
The Dodoma Region, situated strategically and equipped with well-developed infrastructure, is poised to emerge as a logistical hub, often referred to as a "Logistic City." She elaborated, "We boast an extensive network of roads, a high-speed train system, and a growing international airport. Furthermore, Dodoma possesses an inland port, often termed a dry port, due to its lack of access to a coastal port."
The newly signed agreements will enable Dodoma to assume a pivotal role in the distribution of goods throughout Tanzania, connecting the inland port with the seaport in Dar es Salaam. She highlighted, "This strategic move is anticipated to stimulate economic growth within the region and beyond."
Ms. Senyamule reaffirmed Dodoma Region's unwavering commitment to supporting the successful implementation of these agreements, which are expected to yield tangible benefits for all Tanzanians.
In her concluding remarks, Ms. Senyamule extended her heartfelt congratulations to President Samia Suluhu Hassan, conveying her best wishes for the President's good health, prosperity, and success in serving the people of Tanzania.
The signing of these historic agreements signifies a pivotal moment in Tanzania's economic development, with all eyes now eagerly anticipating the positive changes and growth they will usher in for the nation's ports and economy.