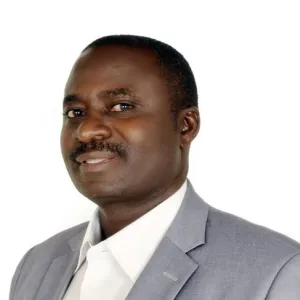 With an unwavering passion for agricultural transformation, Mr. Audax Rukonge is a dynamic leader and he was the Executive Director of the Agricultural Non-State Actors Forum (ANSAF) from 2013 to 2022. He is committed to harnessing the sector's immense potential, particularly for smallholder producers, women, and youth. At ANSAF, he proved a driving force in agricultural transformation, particularly in empowering smallholder producers, women, and youth.
Recognizing the power of dialogue as a catalyst for change, Mr. Rukonge places great importance on sharing evidence and using it to shape practical policy solutions. He understands that platforms such as the media play a crucial role in bringing duty-bearers and rights-holders together, enabling meaningful discussions and influencing positive outcomes. Throughout his career, Mr. Rukonge has worked with local and international organizations, assuming diverse responsibilities and serving on governing boards. His strategic thinking and expertise have contributed to the design and implementation of impactful programs, emphasizing the use of social learning approaches to extract valuable lessons from their implementation.
Mr. Rukonge holds a Master's Degree in Development and International Cooperation, specializing in Social and Public Policy, from Jyväskylä University in Finland. He also earned his Bachelor of Science in Agriculture, with a major in agricultural economics, from Sokoine University of Agriculture. Additionally, Mr. Rukonge has an Advanced Diploma in Modern Management and Administration from Cambridge Tutorial College. His quest for knowledge led him to pursue certificates in Rural Management and Local Governance from India's Institute of Rural Management (IRMA).
As an accomplished author and co-author, Mr. Rukonge has contributed significantly to the literature on social and economic impact in the mining sector, financing small farming in Southern Africa, and impact assessment based on experiences from Mozambique. His publications reflect his deep understanding of the complexities within the agricultural sector and highlight innovative approaches to address key challenges.
Mr. Rukonge's expertise and leadership have been sought by various advisory groups and boards within and outside Tanzania. Notably, he has served on the Agricultural Policy and Research in Africa (APRA), BRAC Advisory Council, National Business Council, and Policy Forum, among many others. His contributions to these influential bodies have provided strategic guidance and shaping policies that directly impact the agricultural sector.
Through his remarkable work, Mr. Audax Rukonge advocates for the rights and welfare of smallholder producers and roots for evidence-based decision-making, dialogue, and inclusive policy formulation, and has contributed to the advancement of the agricultural sector in Tanzania and beyond. With his continued leadership, Mr. Rukonge is poised to lead the way in creating a more sustainable, inclusive, and prosperous future for smallholder producers and the agricultural community as a whole.