By Anthony Muchoki
According to Mr. Amath Pathé Sene, the Managing Director of Africa Food Systems Forum, Africa currently imports over $75 billion in food annually, underscoring a production gap that, if filled, could morph the continent into a global agricultural powerhouse. The African Development Bank Group predicts that the sector will reach US$1 trillion by 2030.
Rich with natural resources, approximately 60 per cent of the world's arable land, and a youthful workforce, Africa is sitting on a potential trillion-dollar agricultural and food system economy. 
"Africa has various ecosystems, which means we can grow many things, feed our people, export, do business, and add value to those productions."
Speaking in Dar es Salaam, Sene said the continent faces a complex web of challenges, ranging from climate change impacts to technological limitations, but with strategic planning, investment, and international cooperation, Africa could cash in on its trillion-dollar agricultural opportunity.
Sene weighed in on how to unlock this massive potential. "By boosting our agricultural sector, Africa's agricultural economies can fill the current production and supply capabilities gap. We could save billions of dollars spent on imports, while producing surplus for export." With a population expected to hit 2 billion soon, the demand for food is increasing rapidly, as is urbanization in Africa.
According to Sene, this scenario offers a colossal investment opportunity, especially for investors who do not face much competition in the sector, which promises solid returns. By harnessing this sector's potential effectively, Africa could trigger a significant economic boom, creating jobs, reducing poverty, and setting the stage for long-term, sustainable growth.
However, various factors currently hamper Africa's agricultural growth. "Our agriculture is largely rain-fed, limiting our growing season to just a few months in certain regions of the continent. Also, the lack of data and digitization hampers decision-making and reduces the willingness of financial institutions to invest in our agricultural sector," Sene explains.
But with challenge comes opportunity. According to Sene, modernizing Africa's agricultural sector and adopting new technologies could yield tremendous economic benefits. "Improving irrigation systems, for example, could increase our productivity dramatically, turning agriculture into a year-round, profitable business and significantly boosting our GDP," he says.
The potential for irrigation in certain parts of Africa is immense. Despite this, only about six per cent is currently in use, compared to other regions in the south where irrigation usage stands at fifty-six per cent. Overcoming the constraint on irrigation, primarily due to a lack of mechanization, means we will be able to utilize the full potential of our arable land.
The transformative potential of enhanced and expanded irrigation systems would fuel the transition to year-round farming, dramatically increasing productivity and allowing for more diversified crop cultivation. This would make farming practices less dependent on erratic weather patterns, providing a more consistent water supply and enhancing resilience to climate change.
He said an increase in agricultural productivity could lead to higher incomes for farmers, thereby improving living standards and contributing to rural development. Such a shift could also improve food security and reduce our reliance on food imports.
Addressing the financial challenges, Sene emphasizes that improving data collection and digitization can significantly lower the risk perceived by financial institutions and attract much-needed investment. "Investing in agriculture is no longer a risky venture but a profitable one, given the high demand for food and Africa's immense agricultural potential," Sene elaborates.
He also points out the untapped potential of Africa's large, youthful workforce: in some countries, almost 50 to 60 percent of the population is under 25 years of age. "This young, dynamic population can be the driving force behind the modernization and growth of our agricultural sector. And with women making up about sixty per cent of our agricultural workforce, gender-inclusive strategies are crucial to maximizing productivity."
"There is also a positive sentiment among the new generation who wants to see things change," Sene noted, emphasizing that young people are part of a movement to feed the continent and create jobs through the agriculture and food system value chain. "This makes the sector a promising area for all, offering huge opportunities for investment."
But the road to realizing this potential is not without obstacles. Climate change and political risks pose significant threats to the growth of the agricultural sector. "These are areas where international cooperation and strategic planning are essential," asserts Sene.
He noted that the highly-anticipated 2023 Summit of the Africa Food Systems Forum, under the powerful theme, "Recover, Regenerate, Act: Africa's Solutions to Food Systems Transformation," is set to take center stage in Dar es Salaam, Tanzania, and would address such issues.
Graciously hosted by the President of Tanzania, Her Excellency Samia Suluhu Hassan, the pivotal event will unfold from September 5th to 8th, with exciting pre-summit activities happening on September 4th.
The summit acts as an essential platform for raising the voices of more than 350 eminent speakers to drive dialogue and innovation. Over 3,000 attendees, composed of academics, policymakers, and industry leaders, will converge to share ideas and solutions. The event boasts representation from over 70 nations worldwide, exemplifying the international commitment to transforming Africa's food systems.
It deploys a tripartite strategy, encapsulated in the summit's theme, which underlines the commitment to recover, regenerate, and act decisively in the face of global food challenges. This year's summit aims to stimulate progressive discussion, catalyze action, and collectively shape the future of African food systems.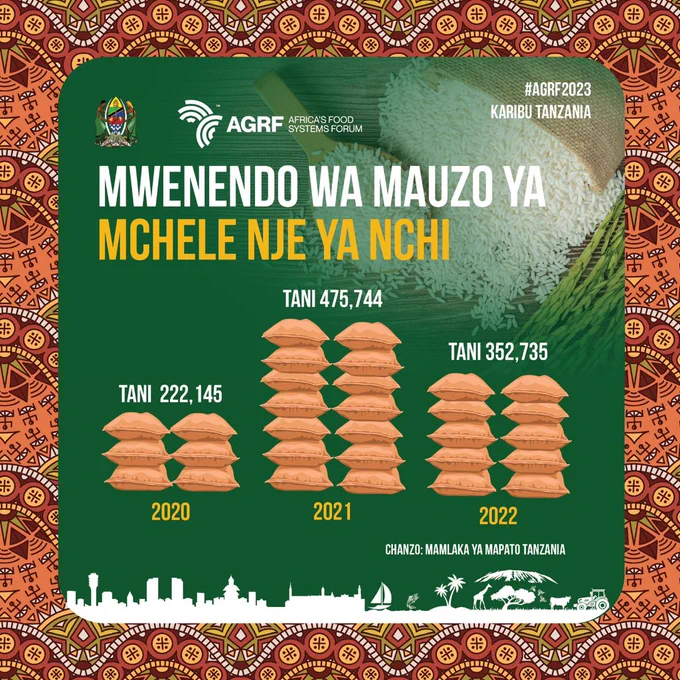 End