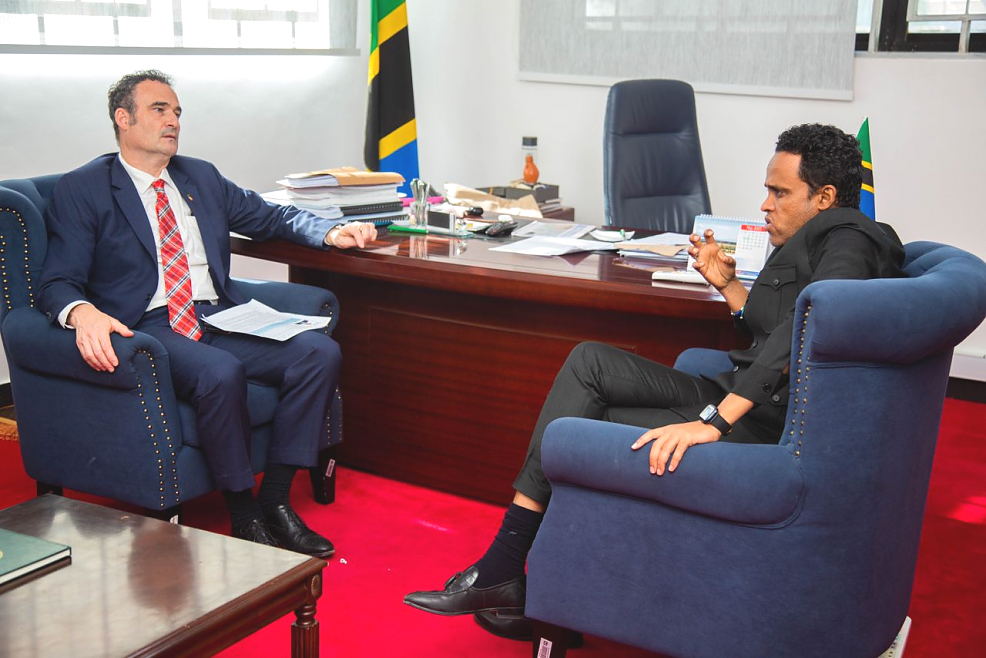 The Minister of Agriculture, Hon. Hussein Bashe, held a meeting and fruitful discussions with the Canadian Ambassador to Tanzania, Hon. Kyle Nunas, regarding Africa's Food Systems Forum 2023 Summit (AGRF-2023).
Minister Bashe and Ambassador Nunas engaged in a comprehensive dialogue on the optimal ways to invest in the agricultural sector, focusing on enhancing wheat production to address the wheat shortage in the country. They emphasized the significance of adopting sustainable agricultural practices and technology to improve food security and promote economic growth.
In a warm welcome, Hon. Bashe invited Ambassador Nunas and the Canadian private sector to actively participate in the highly anticipated Africa's Food Systems Forum 2023 Summit, scheduled to take place from September 4th to 8th in Dar es Salaam. The AGRF-2023 Summit is a premier platform for key stakeholders, policymakers, entrepreneurs, and experts to discuss innovative solutions, exchange ideas, and foster collaborations towards transforming Africa's food systems for a prosperous and sustainable future.
Accompanying Ambassador Nunas was Helen Fytche, the Head Chancellor of International Cooperation at the Canadian Embassy, who admired the Government of the United Republic of Tanzania's commitment to agricultural development. They commended the increased budget allocation to the Ministry of Agriculture in the 2023/2024 financial year, demonstrating the government's dedication to prioritizing the agricultural sector. The officials also lauded the implementation of the Building a Better Tomorrow (BBT) Program, specifically designed to engage and empower youth and women in the agriculture industry.
The meeting between Minister Bashe and Ambassador Nunas signifies the strong partnership between Tanzania and Canada in driving sustainable agricultural practices, fostering food security, and promoting economic development in the region. With their shared commitment to Africa's food systems transformation, both countries aim to create a resilient and inclusive agricultural sector that uplifts farmers' livelihoods and ensures access to nutritious food for all.