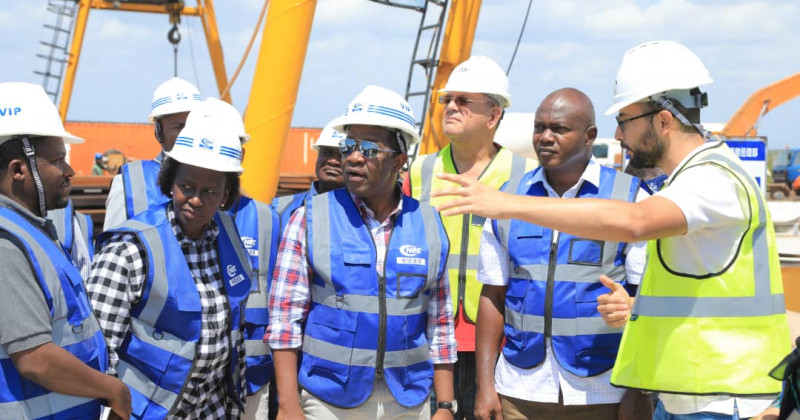 In a remarkable move towards transforming the economic landscape of Tanzania, President Dr. Samia Suluhu Hassan is set to make history. Come September 19, 2023, she will inaugurate the construction of the Kilwa Masoko Fishing Port, a pivotal milestone given that such an initiative hasn't been taken since the nation's independence.
This significant news was unveiled by the Minister of Livestock and Fisheries, Hon. Abdallah Ulega, during a press briefing on the President's anticipated visit to lay the foundation stone for the Kilwa fishing port project and the distribution of modern fishing boats in Kilwa District, Lindi Region.
In his interaction with the media, Minister Ulega emphasized that President Dr. Samia's move to launch the port construction highlights her unwavering commitment to driving economic growth through the fisheries sector.
"President Dr. Samia has been instrumental in ensuring that the fishing sector benefits all Tanzanians. The inauguration on September 19 will pave the way for immense economic solutions, employment opportunities, and income generation for the coastal region and Tanzania as a whole," Ulega explained.
Ulega pointed out that upon the port's completion, an estimated 5 million Tanzanians would derive their income from fishing activities and related industries. This includes boat manufacturing, net repairing, fish processing, and various small-scale businesses.
Adding depth to his statement, Ulega articulated that the construction of the port signifies the dawn of a new era in modern fishing for Tanzania. Coastal residents stand to gain, with over 30,000 job opportunities, novel business avenues, and the introduction of cutting-edge technology.
"The launch of this port will be transformative for the fishing sector. It positions Tanzania prominently in the global fishing market, expands job opportunities for Tanzanians, and augments productivity for both small-scale and large-scale fishermen," he elaborated.
Regarding the distribution of fishing boats, Minister Ulega noted that the Ministry's plan to provide low-interest loans for modern fishing boats and their equipment aims to revolutionize the lives of fishermen, create more jobs, and boost Tanzania's economy.
In sum, September 19 promises to be a watershed moment in Tanzania's trajectory, with hopes and aspirations riding high on the waves of the Kilwa Masoko Fishing Port.