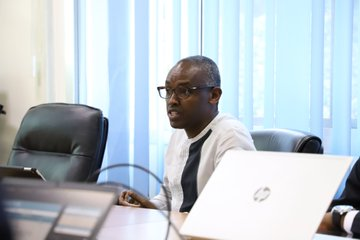 Kilimokwanza News – Kigali, Rwanda
By Elizabeth Shumbusho
USAID Kungahara Wagura Amasoko, a flagship initiative aimed at increasing high-value agricultural exports from Rwanda, held a significant meeting with the Minister of State in MINAGRI, @SERwigamba, as part of their ongoing effort to enhance productivity in the agricultural sector.
The meeting, which also saw the participation of Evan Meyer, Deputy Director/Economic Growth Office at @USAIDRwanda, revolved around the role of Kungahara Wagura Amasoko in promoting growth in the agri-export sector. Key discussions were centered on harnessing ongoing agricultural efforts, particularly in the regions of @GabiroHub, Gako Beef, and the broader eastern province.
The joint collaboration aims to utilize these areas as leverage points to contribute substantially to the growth of high-value agricultural exports from Rwanda. This initiative aligns well with global calls for strengthening food supply systems, as marked by the recent #WorldFoodDay2023.
On this occasion, @USAIDRwanda underscored the contributions of @FeedTheFuture, an initiative that has been providing Rwandan farmers with improved seeds, fertilizers, and farming techniques. Their dedicated efforts were showcased through a notable US$ 1.5 million activity that seeks to enhance the quantity and quality of food harvested.
Furthermore, USAID Kungahara Wagura Amasoko took the opportunity to recognize the importance of agricultural exports in not only bolstering local economies but also in sustaining global food supply chains. The sentiment was shared in their World Food Day posts, emphasizing how quality and affordable exported food from Rwanda not only uplifts its local economy but plays a pivotal role in feeding millions worldwide.
Lastly, in their tribute to #WorldFoodDay2023, the organization also extended their appreciation to the relentless farmers and committed exporters. Their role, they said, remains paramount in ensuring there's food on our tables, reflecting the overarching mission of both USAID Kungahara Wagura Amasoko and global food initiatives.
Stay tuned with Kilimokwanza News for more updates on Rwanda's agricultural advancements.