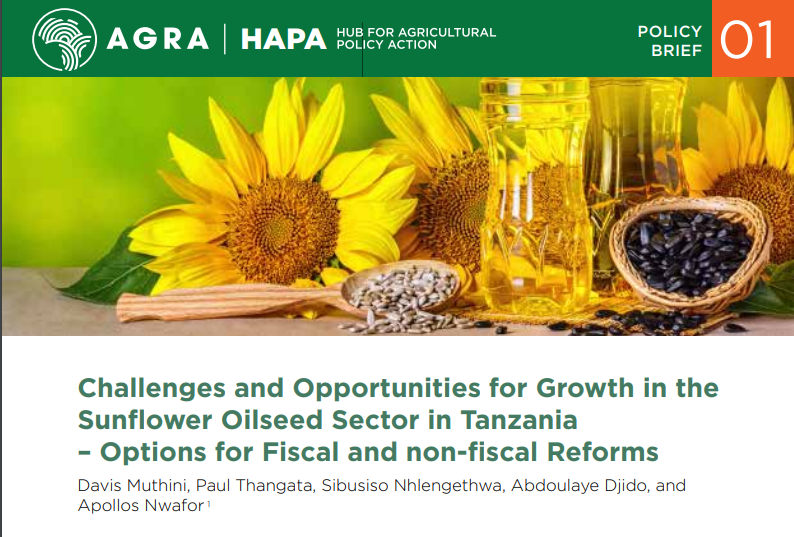 Tanzania's sunflower oilseed sector stands at a pivotal point. Amidst the increasing demand for edible oils, particularly in the wake of the COVID-19 pandemic and the Russia-Ukraine conflict, Tanzania is grappling with a significant gap between demand and domestic production. This article delves into a study conducted by experts Davis Muthini, Paul Thangata, Sibusiso Nhlengethwa, Abdoulaye Djido, and Apollos Nwafor, revealing the intricate dynamics of the sector.
According to the AGRA The Hub For Agricultural Policy Action (HAPA) Policy Brief 1, Tanzania's annual demand for edible oils hovers around 600,000 tonnes, with domestic production covering only a third. The deficit is largely met through imports, making the nation vulnerable to international market fluctuations. The government's initiative to boost domestic edible oil production, with a focus on sunflower oil, offers a ray of hope. Sunflower is particularly well-suited to Tanzania's climate and presents an opportunity for economic growth through increased farm incomes, job creation, and reduced import expenses.

The study outlines the potential impact of fiscal reforms, specifically the reduction of import duty on imported palm and sunflower oils. While this reduction could enhance consumer welfare, it might simultaneously undermine the competitiveness of local sunflower seed and oil sectors without corresponding non-fiscal support. The experts advocate for a balanced approach where a partial reduction of import duty is complemented by the removal of VAT on locally produced sunflower seed oil and enhanced support to farmers, including the provision of seeds, fertilizers, extension services, and market linkages.

Globally, sunflower oil ranks as the fourth most consumed vegetable oil and the third most used oilseed for protein feed. Tanzania, while being the 13th leading producer globally, tops the list in Africa. However, the sector is underperforming due to challenges like competition from imported oils, high seed prices, poor agronomic practices, and land competition. The study suggests that fiscal incentives and non-fiscal reforms could be instrumental in transforming the industry.

Following the 2018/19 tax reforms, there was a notable shift in the import patterns of edible oils in Tanzania. An increase in import duty led to a significant decrease in crude palm oil imports and a simultaneous rise in refined palm oil imports. This shift indicates the need for a more nuanced approach to tax reforms in the sector.

The sunflower oilseed sector in Tanzania is at a crossroads. Strategic fiscal reforms and non-fiscal support could be key to unlocking its potential, enhancing local production, and reducing dependence on imports. This would not only bolster the economy but also empower smallholder farmers and contribute to the nation's self-sufficiency in edible oils.