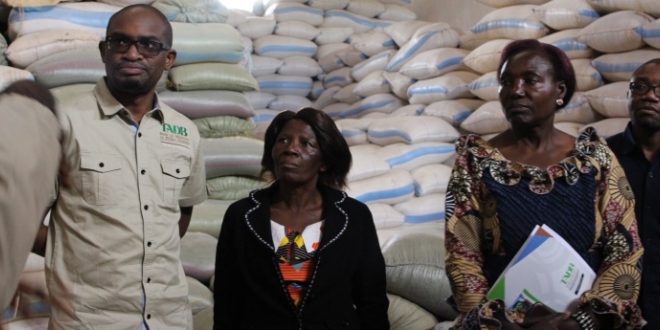 In Njombe, Tanzania, an unassuming revolution is reshaping the local agricultural landscape. At its helm are tenacious entrepreneurs, including Lucy Yona, the 62-year-old dynamo behind the Mama Seki Group. Lucy's trajectory – from farming to charcoal production, and back to farming – paints a picture of grit, ingenuity, and unwavering faith in agriculture's transformative potential. Now, with a TZS 1 billion loan from the Tanzania Agricultural Development Bank (TADB), she's leading Tanzania's agrarian revolution.
Located in Njombe, Mama Seki Group runs a thriving mill, producing and supplying flour across the country. Lucy's dogged dedication secured her a substantial loan, allowing her to invest in cutting-edge machinery that boosted production significantly.
Having initially produced up to 30 tons a day, Lucy's mill now achieves much greater yields, courtesy of a TZS 405 million food processing machine purchased with the loan. This acquisition, endorsed by the Alliance for a Green Revolution in Africa (AGRA), has fortified her role in the agricultural supply chain.
Yet, the influence of Mama Seki Group reaches beyond the mill. By providing local farmers a consistent market for their produce, the Group has fortified the region's agricultural supply chain, infusing local farmers with confidence and transforming Njombe into an agricultural powerhouse.
Lucy's enterprise is not only enriching lives but also transforming landscapes. In addition to bolstering Njombe's economy, her venture plays a vital role in regional food security. Through strategic partnerships with farmers and farming groups, Mama Seki Group ensures a reliable maize market, fortifying Njombe's food supply chain.
Furthermore, her venture fosters job creation, providing locals with employment opportunities and uplifting the community. As Lucy reflects, "Without AGRA, I wouldn't be where I am today. A decade ago, my life was starkly different. Today, I produce a variety of flours, including yellow and fortified flour."
Despite success, challenges persist. Lucy admits contract compliance issues among farmers and a lack of adequate storage facilities. However, she's already strategizing her next steps – including the acquisition of silos to augment her storage capacity.
Lucy's narrative encapsulates the power of tenacity, the influence of investment, and Tanzanian agriculture's potential. Her work with Mama Seki Group embodies TADB's dedication to aiding businesses and farmers to add value to agricultural produce, marking a new epoch in Tanzanian farming. As she relentlessly presses on, the Tanzanian agricultural revolution forges forward, signaling a brighter future for all.
In 2020, TADB granted a TZS 1 billion loan to enhance grain production and contribute value to the sector in the country. Among the beneficiaries was Mama Seki Group, based in Njombe.
During his visit to Njombe, TADB's Executive Director, Japhet Justine, expressed that this financial aid aimed to augment the supply chain capacity, thereby uplifting the local economy and the goods produced within this chain.
Mama Seki Group, led by the seasoned entrepreneur, Lucy, operates a flour mill distributing its product nationwide. Trusted by AGRA and TADB, Lucy was sanctioned the loan to upgrade her machinery, exponentially increasing her production capabilities.
Thanks to AGRA's training, Lucy acquired a TZS 405 million loan from TADB to invest in a food processing machine. This machine has substantially improved her output capacity compared to her former mills' 30-ton daily limit.
Mama Seki Group's presence has bolstered the local farmers' supply chain, providing them with a steady market for their produce. The business also ensures a consistent demand for locally-sourced grain, as AGRA guarantees loans for businesses like Mama Seki.
The group also drives job creation and enhances food security in Njombe and surrounding areas. It collaborates with farmers or farming groups on a contractual basis, ensuring a steady maize market.
Lucy's entrepreneurial journey has been marked by diverse experiences, from farming to charcoal production, and finally, to the profitable enterprise of flour milling. Along the way, she received varied training from organizations such as AGRA, Rudi, and Britten and was connected to farmers supplying maize for grinding and fortification.
TADB's commitment to assist businesses and farmers in adding value to agricultural produce has inspired entrepreneurs like Lucy to believe in the profitability of farming.
Investing in small industries like Mama Seki Group catalyzes production and propels the country's economic growth through agriculture, lifting society's lower tiers.
Collaborating with various farmers who supply raw materials, Lucy processes and distributes the flour to regions such as Morogoro (Kilombero, Ifakara, Mahenge, and Ulanga), Mtwara, Lindi, Tanga, and Dar es Salaam.
Reflecting on her journey, Lucy states, "Without AGRA, I wouldn't have come this far. Ten years ago, I was in a completely different place. Now, I'm producing different types of flour, including yellow flour and fortified flour."
Despite contract compliance challenges, Lucy takes pride in being a part of the agricultural revolution by providing a market for farmers. Currently faced with a storage crunch, she is eager for support in acquiring silos to increase her storage capacity.