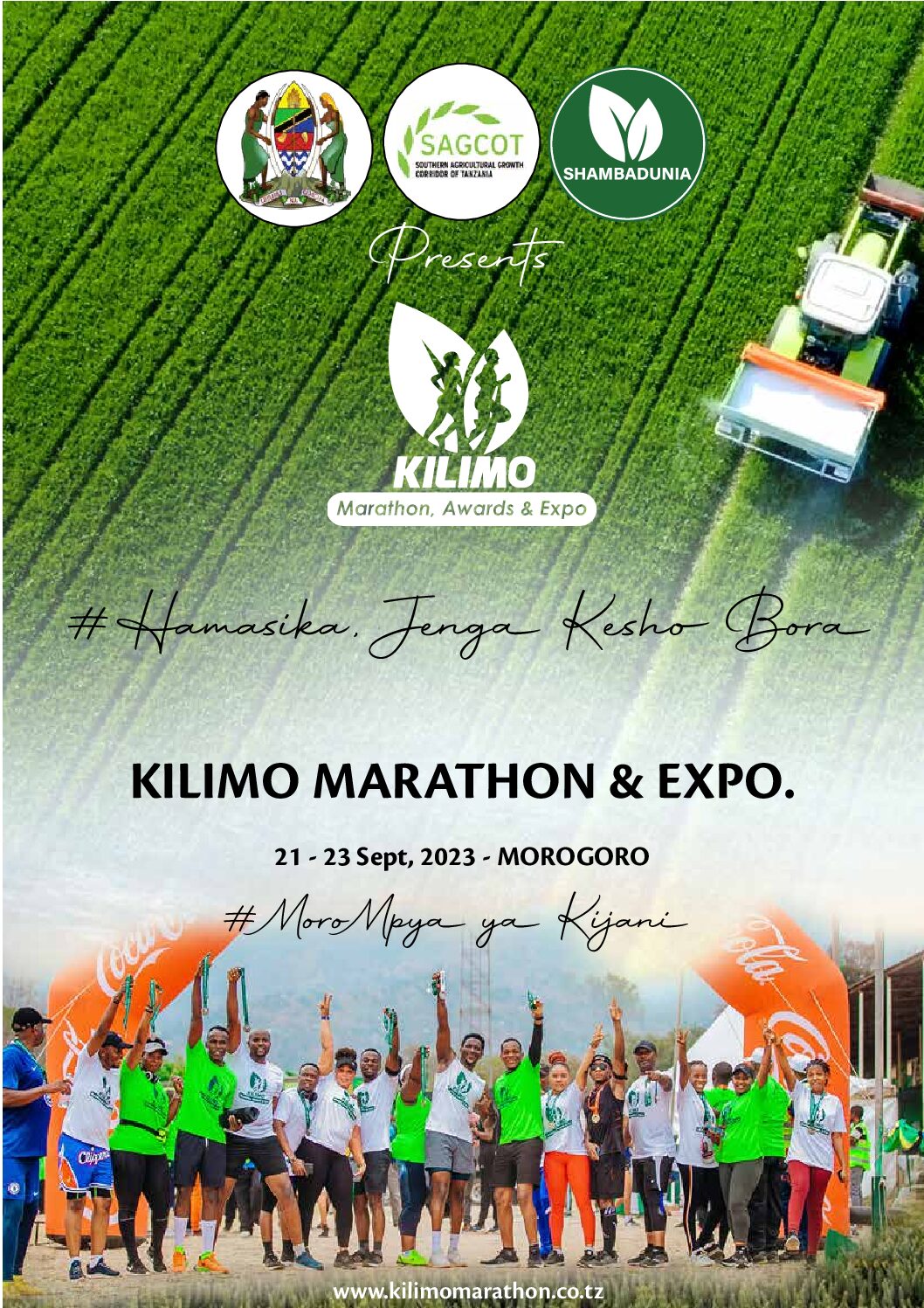 A concerted effort from Morogoro Regional Commissioner's office, SAGCOT, Shambadunia, and other key stakeholders has given rise to an impactful annual event series dedicated to revitalising the agricultural sector. The third edition of this significant campaign, the KILIMO Marathon and Expo, is set to infuse new life into the field from September 21st to 23rd, 2023, in the picturesque setting of Morogoro.
According to Janeth Mecky, the Assistant Director of the KILIMO Marathon and Expo, the rallying theme, "Hamasika, Jenga Kesho iliyo bora," translates as "Be Inspired, Build a Better Tomorrow," and encapsulates the event's driving goal: to reshape the perception of agribusiness among the younger generation. The KILIMO Marathon and Expo is determined to shine a light on the abundant opportunities within the sector and champion agribusiness as an appealing and viable avenue to improve and secure their futures.
As a diverse and dynamic platform, the KILIMO Marathon and Expo presents a blend of educational and recreational elements. The Agricultural Expo stands as a beacon of knowledge and innovation, and the Moro Mpya ya Kijani campaign forms a crucial part of the event's mission, promoting environmental conservation and sustainable agricultural practices.
In the spirit of unity, resilience, and health, the event showcases a wide variety of sports activities. The cornerstone of these activities are the marathons, catering to every level of fitness and endurance, with choices ranging from the demanding 42.2 Km Full Marathon and 21.1 Km Half Marathon, to the more accessible 10 Km and 5 Km Fun Runs. Supplementing these are a mountain biking competition, netball and football skills contests, and cherished traditional games like tug of war and sack race, cultivating camaraderie and physical wellness.
The crowning venture of this year's KILIMO Marathon and Expo is the Moro Mpya ya Kijani Campaign. With an ambitious objective of raising funds for the distribution and planting of 1 million fruit and spice trees in Morogoro, this campaign stands as a testament to the event's commitment to environmental stewardship and the cultivation of sustainable agricultural practices.
Janeth Mecky, the Assistant Director of the KILIMO Marathon and Expo, perfectly captures the event's ethos with her statement, "By integrating sports into our Expo, we are underscoring the importance of health and unity within the agricultural community. After all, a healthy farmer leads to a healthy farm, and a united community can make significant strides towards shared goals."
This quote encapsulates the event's dual focus on promoting physical well-being and fostering community collaboration. The KILIMO Marathon and Expo is a testament to the interconnection of health, unity, and productivity, all crucial aspects in building a sustainable and successful agricultural sector. Through sports and collaboration, the event highlights the vitality of the agricultural community and aims to inspire and empower stakeholders towards a healthier and more unified future.
For more information https://kilimomarathon.co.tz/