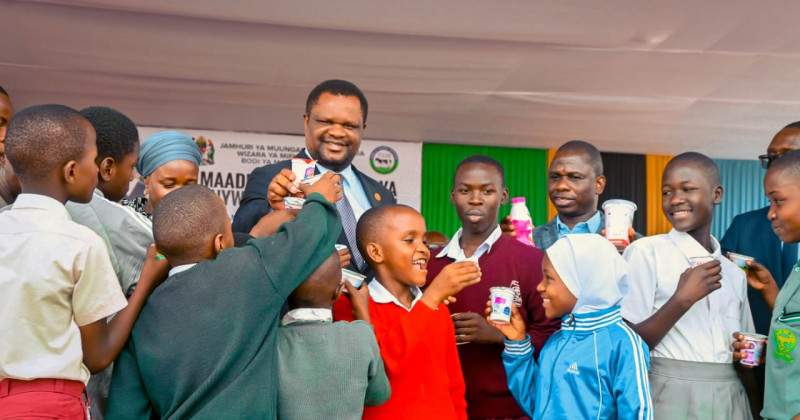 The Deputy Minister of Livestock and Fisheries, Hon. Alexander Mnyeti, has stated that the government continues to implement the school milk drinking program with the aim of ensuring the continued improvement of children's health.
Deputy Minister Mnyeti made these remarks today (27.09.2023) during the closing ceremony of the School Milk Drinking Day celebrations held at Furahisha grounds in Mwanza City. Mnyeti said the government is committed to ensuring children have a proper diet; hence, it must implement the school milk drinking program as milk is vital for improving children's health.
School Milk Drinking Day is crucial, aiming to raise awareness about improving children's health in schools through the consumption of milk and its products. Nutrition experts advise giving children a more nutritious meal that provides all essential nutrients, with milk being proven to be one of the most essential foods for children and even for adults.
"Our nutrition experts recommend that every school child (primary and secondary) should have at least one glass of milk every day. It would be best if this milk is provided at school to energize the child during their studies," he said.
Deputy Minister Mnyeti stated that many children in the country, including those in the Mwanza region, leave home at 3 in the morning for school without having any meal. Often, they also don't get food at school, leading to hunger, inattention, and later a diminished value in education.
Milk helps children grow physically and mentally. If provided at schools, it will foster good physical and intellectual development in children. In the future, we will have a nation with well-rounded, highly knowledgeable individuals.
"I urge the Directors, our experts in all councils, to continue to mobilize, provide children with milk, and monitor their progress. Proper plans should be put in place to ensure children get milk in school. Even in the nutrition plan, milk should be part of a student's meal," he emphasized.
Deputy Minister Mnyeti urged private sector stakeholders to cooperate with the government to ensure children get milk in schools to elevate their academic performance levels. There's a need for infrastructure and the power to distribute milk in schools, so all stakeholders should plan sincerely to achieve this. Moreover, dairy farmers have been advised to produce more milk, and processors and other stakeholders are urged to register with the Tanzania Milk Board to be recognized.
The government of the United Republic of Tanzania, under Hon. Dr. Samia Suluhu Hassan, the President of the United Republic of Tanzania, has continued to invest in a conducive environment for the development of the dairy industry. Through the Agricultural Development Bank (TADB), it has managed to provide loans worth Tsh 1.02 Billion for the purchase of 398 quality dairy cows for small-scale milk farmers through AMCOS & Dairy Production Groups to increase milk production in the country. The government, through the TADB TI3P project, has also provided a 25% subsidy on the cost of calves worth Tsh 257,256,625 to reduce the operational costs for small-scale farmers, enabling them to farm more productively.
"Let's utilize this opportunity given by Hon. President to increase production and processing, improve milk quality, so we have more processed milk. Those selling milk on the streets should contact the Tanzania Milk Board (TDB), buy packaging, sell safe milk, so that milk gives us health and not harm. Citizens, drink processed milk, children, drink milk, the Ministry facilitates, milk is available," he said.
Deputy Minister Mnyeti thanked the Tanzania Milk Board (TDB), the Regional Administrative Secretary of Mwanza, Council Directors, Government Officials, the Agricultural Development Bank (TADB), the Food and Agriculture Organization (FAO), Gain Tanzania, Heifer International, ASAS Dairies LTD, Galaxy Food, Yoba for Life Foundation, all processors in the lake region, and citizens for organizing, participating in, and making the celebrations successful.
The District Commissioner of Nyamagana, Hon. Amina Makilagi, representing the Regional Commissioner of Mwanza, said the region continues to implement a school feeding program. Given the importance of milk in boosting children's nutrition, they will prioritize the school milk drinking initiative to ensure children have better health.
The Chairman of the TDB Advisory Board, Prof. Zacharia Masanyiwa, urged parents and guardians to ensure children get the best nutrition available through milk consumption. He also thanked the government through the Ministry of Livestock and Fisheries for supporting the Milk Board in fulfilling its duties to Tanzanians.
The Registrar of the Tanzania Milk Board (TDB), Dr. George Msalya, urged dairy farmers to ensure they take their milk to milk collection centers for quality testing before reaching consumers. He also advised citizens to use processed milk as it's safe.
The theme of the celebrations was "Give a Child Milk for Better Development in School," aiming for a nation with healthier, more knowledgeable children, thus aiding the country's overall development. Parents and teachers should jointly ensure children consume processed milk both at school and at home.
In addition to concluding the celebrations, Mnyeti also launched the Lake Zone Artificial Insemination Center, whose nitrogen air production plant had been damaged since 2016 but is now functioning correctly after repairs done in 2023.
The center stores and distributes quality livestock semen produced at the National Artificial Insemination Center (NAIC) located in Arusha region. Currently, the center provides artificial insemination services in the Lake Zone and neighboring regions of Katavi, Tabora, and Kigoma. This fiscal year, up to 26 September 2023, a total of 3,207 semen tubes have been distributed.