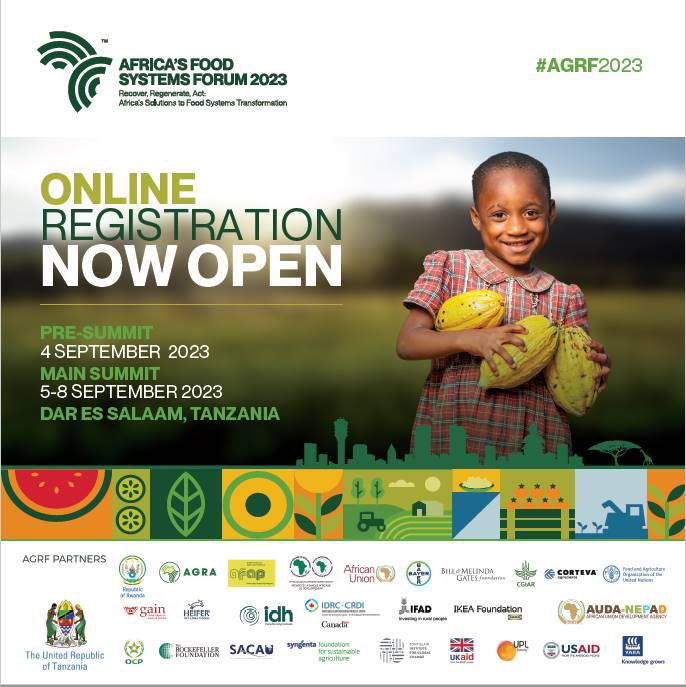 Tanzania Ministry of Agriculture Invites Registrations for Africa's Food Systems Forum 2023 Summit (AGRF-2023)
The Tanzania Ministry of Agriculture has made an exciting announcement, opening the online registration for the highly anticipated Africa's Food Systems Forum 2023 Summit (AGRF-2023). This prestigious event, considered Africa's premier platform for advancing agricultural and food systems, will bring together stakeholders from across the continent to engage in crucial discussions and chart the course for a sustainable future.
Among other things, the conference will focus on the role of Africa in implementing innovative approaches that ensure food security and safety worldwide.
To register for the summit, interested individuals and organizations can visit the official registration website at https://www.agrf-inperson.com/. The online registration process ensures convenient access for participants, streamlining the procedure and enabling a broader representation from various sectors.
Africa's Food Systems Forum 2023 Summit's theme, "Recover, Regenerate, Act: Africa's Solutions to Food Systems Transformation," focuses on building better food systems and sovereignty with youth and women at the center. The theme identifies three steps to achieve this transformation: Recovery, Regenerate, and Act.
Recovery calls for decisive strategies and actions to rebuild food systems after multiple crises and shocks. Regenerate emphasizes the need to regenerate natural capital resources with adaptation practices, innovation, and technology for sustainable food production in a changing climate context. Act urges urgent action to accelerate food systems transformation through better policies, practices, and investments.
AGRF-2023 is expected to attract policymakers, researchers, farmers, entrepreneurs, development partners, and other key actors involved in shaping Africa's food systems. By fostering collaboration and knowledge exchange, the summit aims to drive transformative changes in the agricultural sector and address critical challenges faced by the continent.
Under the theme "Recover, Regenerate, Act: Africa's Solutions to Food Systems Transformation," the summit will explore innovative strategies and practical solutions to enhance food security, promote sustainability, and improve livelihoods. This theme underscores the urgency to recover from crises, regenerate natural resources, and take action towards building resilient and inclusive food systems.
The Africa's Food Systems Forum 2023 Summit will serve as a platform for sharing experiences, showcasing success stories, and discussing key issues that affect food production, distribution, and consumption. Participants will engage in diverse sessions, including plenaries, panel discussions, workshops, and exhibitions. These sessions will focus on topics such as climate-smart agriculture, digital innovations, gender equity, youth engagement, and market access.
Tanzania's scenic and vibrant city, Dar es Salaam, has been selected as the venue for the event. The city's rich cultural heritage and strategic location make it an ideal backdrop for fostering collaborations and fostering impactful discussions.
The Africa's Food Systems Forum 2023 Summit presents an unparalleled opportunity to shape the future of food systems in Africa. With the online registration now open, stakeholders are encouraged to secure their participation early and contribute to this dynamic and transformative event. Together, they can collectively work towards sustainable agriculture, improved nutrition, and shared prosperity for the African continent.