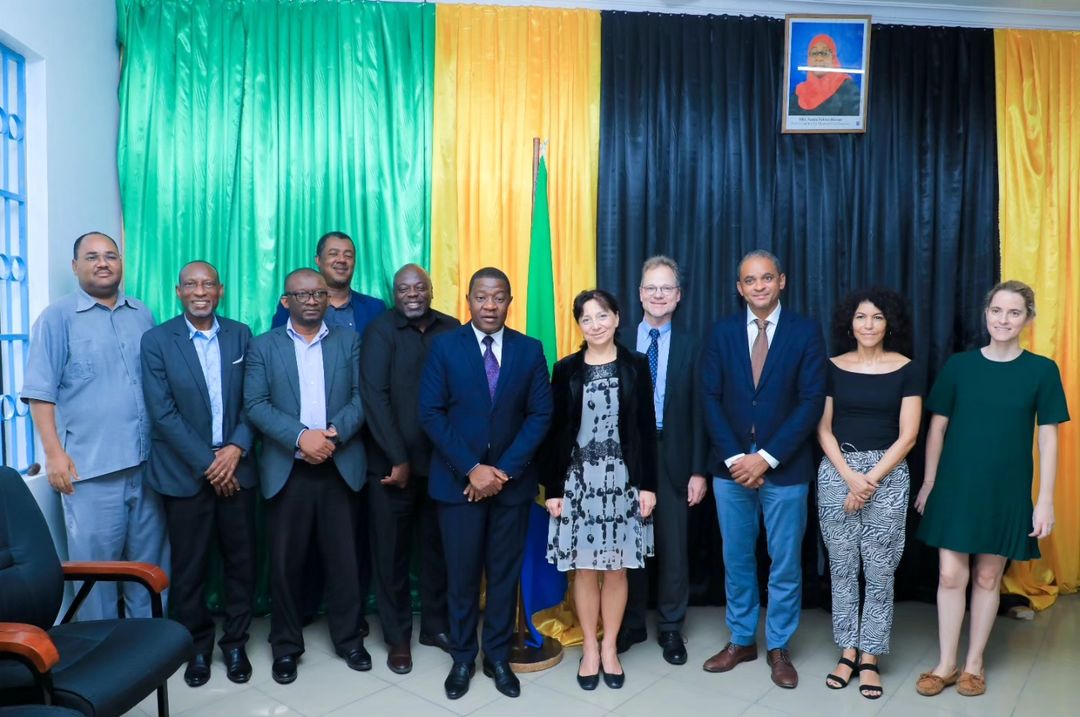 Dar es Salaam, Tanzania – The Minister of Livestock and Fisheries, Hon. Abdallah Ulega, has engaged in strategic talks with the Director-General for Maritime Affairs and Fisheries of the European Union (EU), Ms. Charlina Vitcheva, to discuss the reinforcement and advancement of the blue economy in Tanzania.
Meeting in Dar es Salaam on November 7, 2023, the discussions centered on innovating the blue economy — a critical sector encompassing fishing, aquaculture, seaweed cultivation, and the sustainable management of ocean resources.
Cultivating Opportunities and Environmental Stewardship
The discourse between Hon. Ulega and Director Vitcheva aimed to unlock job opportunities and enhance the economic development of communities, particularly along the Indian Ocean coast. A significant part of the conversation focused on equipping these communities with modern fishing tools, techniques for fish farming, seaweed farming, as well as breeding sea cucumbers and crabs.
Sustainable environmental practices were at the forefront of their discussions, ensuring the ocean's health remains a priority throughout the execution of blue economy projects.
A Presidential Project Under the Spotlight
Additionally, Minister Ulega briefed Director Vitcheva on President Hon. Dr. Samia Suluhu Hassan's flagship project, BBT- LIFE, indicating potential areas where the EU could support the initiative. This project exemplifies the government's commitment to nurturing youth development through the blue economy.
A Synergistic Value
The partnership between Tanzania and the European Union holds the promise of a revitalized marine sector, where the expansion of the blue economy is expected to serve as a new mainspring of economic diversity. By tapping into unexplored marine and coastal resources, Tanzania can enrich its economic activity, introducing new streams of revenue that can lead to greater financial stability and growth. This alliance, hopefully for the workforce, particularly the youth, whose horizons may broaden with the creation of a multitude of jobs across emergent industry sectors. By equipping the younger generation with specialized skills and knowledge, this initiative is not just sowing seeds for immediate employment but also cultivating leaders for a sustainable future.
At the core of this partnership is a mutual commitment to sustainable development, a guiding principle that aims to marry economic advancement with ecological stewardship. As Tanzania ventures into this new phase of economic strategy, the collaborative efforts with the EU are anticipated to foster a model of growth that is both robust and responsible, ensuring that the country's marine environments remain vibrant and healthy for generations to come. This holistic approach heralds a future where economic progress does not come at the expense of the environment, but rather, ensures its protection as a precious legacy.
The partnership discussion between Tanzania and the EU marks a promising stride toward a thriving, sustainable, and inclusive blue economy, poised to enhance the prosperity and wellbeing of Tanzanians while protecting the maritime environment for future generations.