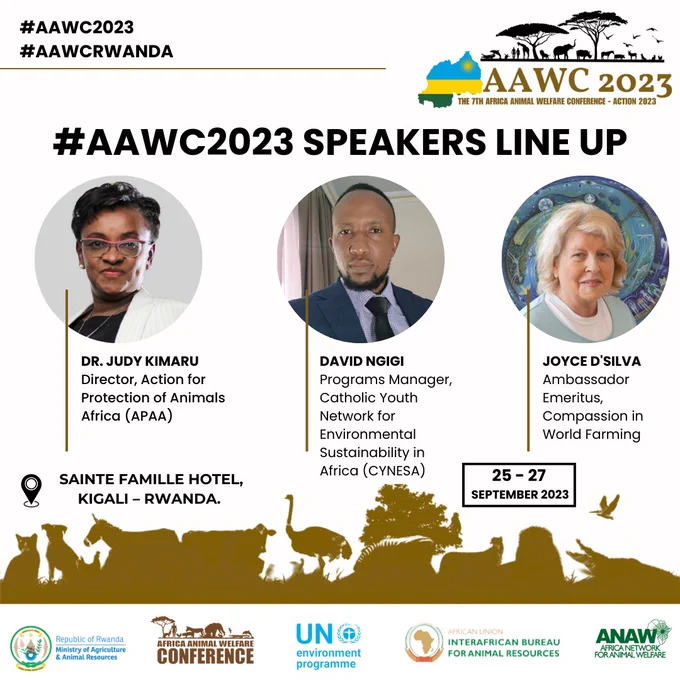 In just a few hours, the curtains will rise for the highly anticipated 7th Africa Animal Welfare Conference – Action 2023. Delegates from across the continent and around the world are set to converge for this hallmark event, bringing together experts, activists, and policymakers all committed to the cause of animal welfare in Africa.
Hosted by the Africa Animal Welfare Conference (@AAWConference), this annual event has grown in significance since its inception, reflecting the continent's evolving perspectives and efforts toward safeguarding its rich biodiversity and ensuring the humane treatment of all its creatures.
The theme for the 2023 edition, "Navigating the delicate balance of animal welfare, climate change, and development: concerted actions towards a healthy and sustainable environment," couldn't be more timely. With the rising impacts of climate change and the ever-increasing human footprint, the importance of understanding the symbiotic relationship between animals, humans, and the environment has never been more paramount.
This year, two keynotes are already making waves and are expected to set the tone for the event.
Wachira Kariuki, a notable figure from the Africa Network for Animal Welfare (ANAW), is set to grace the podium. Wachira's past work with ANAW has been instrumental in shedding light on various challenges faced by animals in Africa. Attendees eagerly await his insights into current trends, challenges, and opportunities in animal welfare on the continent.
Joining him is Prof. James Nkansah Obrempong, another luminary from ANAW. With his deep academic background and on-the-ground experience, Prof. Obrempong is expected to delve into the scientific aspects of animal welfare, highlighting the nexus between animal health, environmental health, and human wellbeing.
Another key presentation to look out for is from a representative of the African Union Inter-African Bureau for Animal Resources. As a pivotal organization in the domain of animal resources and health in Africa, insights from this bureau promise a holistic understanding of how animal welfare ties into broader socio-economic and political landscapes in Africa.
However, the conference isn't just about presentations. Interactive workshops, panel discussions, and collaborative sessions are scheduled, aiming to foster dialogue, share knowledge, and carve a clear path forward for animal welfare initiatives in Africa.
As the clock ticks down, social media is abuzz with excitement. The official hashtag for the event, #Action2023, is already trending, showcasing stories from past participants, hints at new research findings, and rallying cries for collective action. Attendees are sharing their expectations, and many are arriving early to the venue to network and set the stage for what promises to be a transformative few days.
For those unable to attend in person, the @AAWConference Twitter handle will be providing live updates, ensuring that insights from the conference resonate far and wide, bridging distances and making the discourse on animal welfare a truly global conversation.
In a continent as diverse and rich as Africa, the importance of a unified approach to animal welfare cannot be understated. With the 7th Africa Animal Welfare Conference – Action 2023 on the horizon, there's palpable hope that meaningful dialogues will catalyze tangible actions, ensuring a safer, kinder world for all creatures that call Africa home.