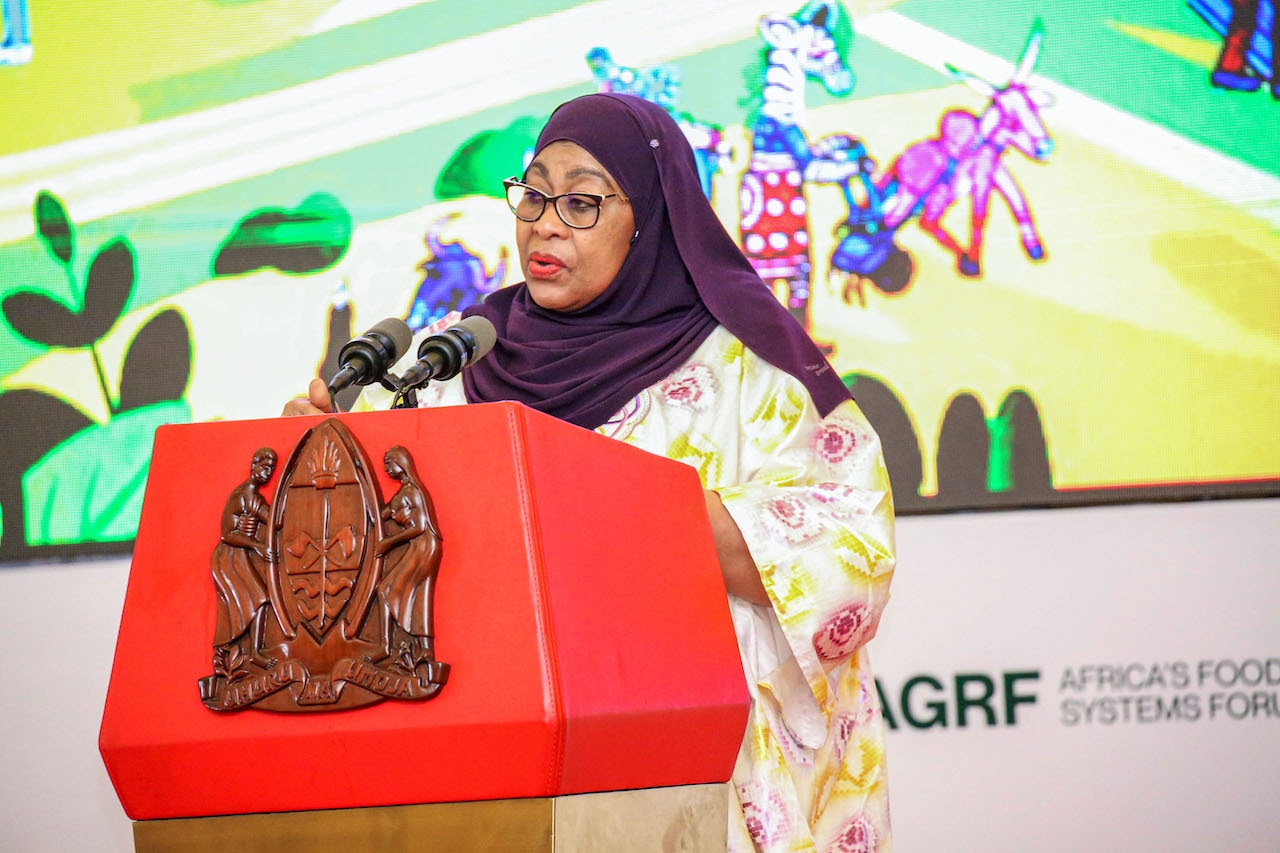 Nane Nene Agricultural Fair, Rujewa District, Tanzania
In a resounding display of commitment and visionary leadership, President Samia Suluhu Hassan of Tanzania has launched a groundbreaking series of agricultural initiatives aimed at revolutionizing the country's farming sector. The multifaceted project, unveiled at the Nane Nene Agricultural Fair in Rujewa District, transforms Tanzania's agricultural landscape, ensuring food security, boosting rural economies, and empowering the nation's hardworking farmers.
Addressing a captivated audience, President Hassan articulated her government's dedication to uplifting low-income farmers across all 184 councils in Tanzania. At the heart of this transformative endeavor lies an ambitious plan to drill wells, equipped with cutting-edge solar pumps, providing farmers with an invaluable water resource for irrigation even in the most arid seasons. By harnessing solar energy to power these pumps, the initiative promises to unlock year-round agricultural productivity, breaking the chains of rain-dependent farming.
"We want to make sure that our farmers are able to produce enough food to feed their families and to sell for income," President Hassan declared with unwavering resolve. "We also want to export our agricultural products to other countries."
Tangible actions back the President's vision. The government's commitment is further exemplified by the launch of a comprehensive fertilizer subsidy program. Hussein Bashe, the Minister of Agriculture, meticulously detailed the initiative's pricing structure, reassuring farmers of accessible and affordable fertilizers. The focus on inclusivity and profitability underscores the administration's holistic approach, nurturing an ecosystem where every participant thrives.
Hussein Bashe stated, "We want to make sure that our farmers have access to affordable fertilizer so that they can produce more crops. We also want to encourage farmers to use modern agricultural techniques to improve their yields."
Raymond Mndolwa, Director General of the National Irrigation Commission, painted a vivid picture of the future. With unwavering conviction, he outlined an irrigation system that promises to redefine farming in Tanzania. This visionary infrastructure, with its intricate network of wells, pipes, filters, and solar pumps, heralds a new era of consistent water supply and enhanced crop productivity.
In his stirring address, Mndolwa emphasized, "When we dig a well, we make sure that we close the irrigation system for all of them. Your government gives the farmers a bill, we don't charge them. But later, when we close these systems, we go to the procedure of charging this fee so that they can contribute, so that we can develop this for the whole country."
Gregory, a representative of the farming community, emotionally conveyed his gratitude to President Hassan and the irrigation commission for transforming his life. Formerly reliant on unpredictable rainfall, Gregory's fortunes have been forever changed. His testimonial serves as a poignant reminder of the tangible impact these initiatives hold for the country's rural populace.
"I am very grateful to the government of the honorable president for cooperating with the irrigation commission for helping me to bring these irrigation equipment," Gregory exclaimed. "We used to depend on rainfed farming but now we farm at any time. Let's create a market, there are 60 million Tanzanians, so we will sell domestically, we will also sell abroad."
President Samia Suluhu Hassan's resolute commitment to reshaping Tanzania's agricultural sector resonates as a beacon of hope and progress. Her unwavering dedication to food security, rural development, and sustainable prosperity stands as a testament to her leadership and the bright future she envisions for the nation.
Hussein Bashe, Minister of Agriculture:
"We are launching the indicative price of fertilizer which will officially start in the ninth month for the coming season…"
Minister Bashe's words were met with rapt attention, underscoring the gravity of the announcement he was about to make. His detailed breakdown of fertilizer pricing resonated with farmers, assuring them of accessible and affordable fertilizers.
"This is called TOP DRESSING fertilizer produced by mingingu and it will be between Sh68000- Sh75000, so the trend of the prices of this trip will be low price and high price, the only reason is that we set a price slot of Sh70000, the small businessmen in the city were seeing profit theirs becomes small, so they cannot come to take the mbeya from the city to the village inside, so we have set a range of Sh5000 of mbak so that he can cover the costs of transportation and other services and they themselves can make a profit."
Minister Bashe's meticulous explanation of the pricing structure reflected the government's commitment to nurturing a fair and sustainable agricultural ecosystem. His emphasis on inclusivity and ensuring profitability at every level underscored the government's thoughtful approach to fostering agricultural prosperity.