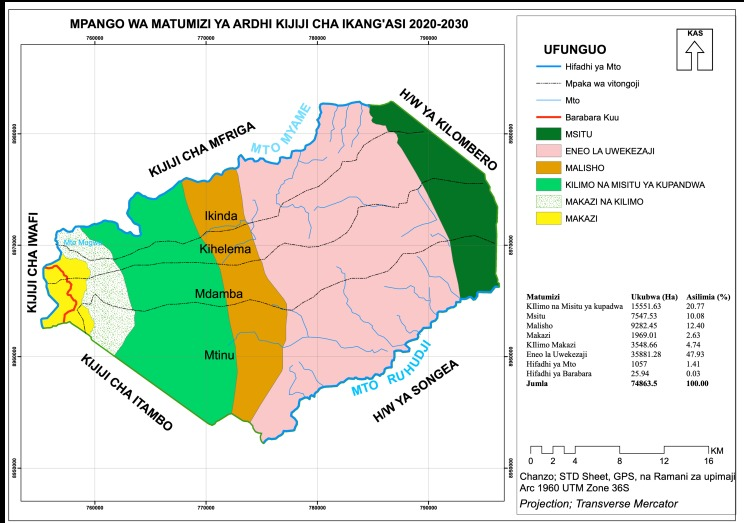 Ikang'asi Village: A Thriving Oasis of Opportunity
By Neema Munisi
Ikang'asi Village, located in the heart of Njombe Rural District Council, is poised to become a symbol of prosperity and innovation in Tanzania. With an ambitious plan to allocate 75,000 hectares of land for various purposes, the leadership of Njombe is not only opening doors to investors but also charting a new course for sustainable development.
A Visionary Leader
At the helm of this groundbreaking initiative is Njombe RC Hon. Anthony Mtaka, a man with a vision to transform the region's economic landscape. "We are opening doors and inviting investors from different angles for investing," says Mtaka. "We expect that this farm will be a major economic driver for the region."
The centerpiece of this endeavor is the large-scale avocado farming in Ikang'asi. However, Hon. Mtaka emphasizes that it's not just about avocados. Investors are encouraged to diversify their investments, including the creation of a golf course, hotels, and even a zoo. This multifaceted approach is geared towards making Ikang'asi Village a holistic destination, promoting both economic growth and tourism.
Genesis of the Idea
The genesis of this visionary project can be traced back to several key ideas and factors that drove the leadership of the Njombe region to take action:
Collective Trade and Commerce: The concept of creating open markets designed for collective trade and commerce is central to the development plan, fostering economic activity and growth.
Creative Youth Employment: The project aims to provide employment opportunities for the region's youth, promoting creativity and innovation.
Empowerment of Women Farmers: Gender empowerment is a priority, with programs designed to support and empower women in agriculture.
Market Diversification: By diversifying the market through alternative crops, the region aims to enhance its economic resilience.
Climate Suitability: The region's climate is ideally suited for various crops, creating opportunities for sustainable agriculture.
Unique Natural Beauty
Ikang'asi Village's uniqueness lies not only in its economic potential but also in its natural beauty. Nestled amidst mountains and valleys, the village boasts an abundance of water sources, including three major rivers. Ruhudji River offers hydroelectric power potential, Nyame River is a prime area for tourism, and Ihopo River is earmarked for irrigation and other purposes.
The biodiversity of Ikang'asi Village, with its natural forests and waterfalls, holds promise for eco-tourism and conservation efforts. The location's proximity to neighboring villages and councils in the Morogoro and Ruvuma regions further underscores its strategic importance.
Agricultural Abundance
The rich soil and favorable climate in Ikang'asi Village create an ideal environment for various crops. Avocado, pineapples, beans, sugarcane, bananas, maize, tomatoes, cabbage, potatoes, cassava, mangoes, wheat, and beekeeping all thrive in this fertile land.
Thoughtful Design for Sustainability
The development of Ikang'asi Village is guided by a comprehensive set of design considerations to ensure sustainability:
Zoning and Parcel Layout: The land is divided into distinct zones.
Crop Rotation: A crop rotation strategy is in place.
Companion Planting: Intercropping with complementary plants is encouraged.
Topography and Slope: The land's topography and slope are taken into account.
Wildlife Conservation: Biodiversity and ecological balance are promoted.
Water Management: A comprehensive water management plan is being developed.
Soil Conservation: Soil conservation practices are implemented.
Infrastructure Placement: Roads and facilities are strategically planned.
Community Engagement: Community interests are considered throughout the project.
Future Development
The village's future development is organized into distinct zones:
Logistic Zone: Including a small dry port, warehouses, processing centers, and more.
Recreational Zone: Home to 5-star hotels, a golf course, sports facilities, a recreational park, and a zoo.
Industrial Zone: Hosting various processing plants.
Accommodation Zone: Providing housing options for residents and workers.
Farming Zone: Focused on avocado, wheat, sunflower, and plant nurseries.
Utilities and Services: Featuring a solar farm, power station, restaurants, water reserve, and waste management facilities.
Other Investments: Including schools, dispensaries, community halls, and religious sites.
Land Use Plan
The land use plan for Ikang'asi Village, spanning from 2020 to 2030, places a significant emphasis on investment, which occupies nearly 48% of the total area. Plantation forestry, natural forests, pastures, residences, and agriculture also play vital roles in the village's development.
Ikang'asi Village is not just a project; it's a vision for sustainable growth, community empowerment, and environmental preservation. As it takes shape, it stands as a testament to what can be achieved when visionary leadership and careful planning come together to create a brighter future for all.