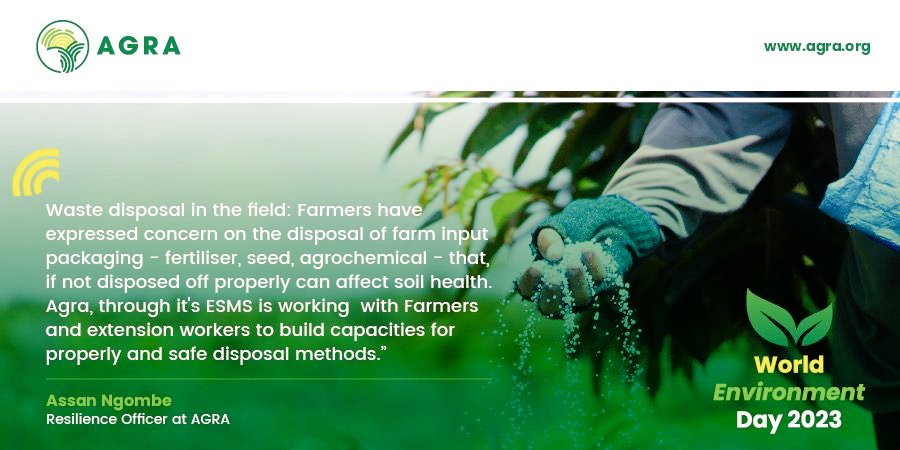 By Assan Ng'ombe, Juliette Lampoh-Agroh and Bashiru Musah, June 2023
As we reflect on the recent World Environment Day commemorations held on June 5, 2023, we highlight the pivotal role of smallholder agriculture in Ghana's socio-economic fabric. It is the largest employer in the country, accounting for over 50% of the workforce. It is also a major source of income for rural households, accounting for over 60% of household income. It also helps to ensure food and nutrition security, as smallholder farmers produce most of the country's food. The sector is central to the reduction of poverty in the country, as smallholder farmers are often among the poorest people in the country.
Smallholder food systems face several challenges in Ghana. These include:
Low productivity due to several factors, including poor or unequal access to land, water, and credit; inadequate agricultural extension services; and the use of outdated farming practices.
High input costs such as certified seed, fertilizer, and pesticides, which makes it difficult for smallholder farmers to make a profit.
Market access, smallholder farmers often have limited access to markets, hence unable to sell their produce at a fair price.
Climate change has been a major threat to the smallholder agriculture and food systems. Changes in weather patterns have made it difficult for farmers to consistently grow crops.
The sector's dominance in Ghana's development also means that it is one of the main drivers of environmental degradation and biodiversity loss. Agriculture can have significant impacts on the environment. While negative impacts are serious, and can include pollution and degradation of soil, water, and air, agriculture can also positively impact the environment by trapping greenhouse gases within crops and soils, or mitigating flood risks through the adoption of certain farming practices. The sector's impact on the environment and biodiversity is felt through several different pathways, including:
Land use change: The food and agriculture sector is the largest user of land in Ghana, accounting for over 50% of the country's land area. Land use change, such as deforestation and conversion of grasslands to cropland, has led to the loss of habitats for many plant and animal species.
Pollution: The improper use of pesticides, fertilizers, and other chemicals in agriculture can pollute water bodies and soils, harming aquatic life and plants. Examples from countries up field tell us of the high-risk potential of polluting the environment.
These impacts can create a vicious cycle of reduced food security, degradation of ecosystems and poverty.
AGRA and partner organisations have been working in Ghana to reduce the impacts of smallholder agriculture on the environment and biodiversity with the promotion of Sustainable Farming practicessuch as agroforestry, climate smart and regenerative agriculture and conservation agriculture that help to protect the environment and biodiversity while still producing food. Provision and strengthening of agricultural extension services is a key component of AGRA's work in the country. Support to the development of agricultural markets is another key area of work.
AGRA's work in Ghana is integrating and implementing its Environment and Social Management System (ESMS) to minimize, manage and mitigate the negative environmental and social impacts that smallholder agriculture can have on the environment. AGRA's ESMS is premised on the International Finance Corporation's (IFC's) Performance Standards (PS). These Performance Standards are important in Ghana's quest to attaining food security because they can help to ensure that the agricultural sector does not harm the environment or people.
AGRA's ESMS therefore covers a wide range of environmental and social issues, including land, water, biodiversity management and social impacts.
All partner agencies are encouraged to comply with AGRA ESMS with its implementation as the Performance Standards are an effective tool in helping protect Ghana's environment and people. AGRA's agricultural investments have helped reduce land degradation, improve water quality, and protect biodiversity. These investments also help to improve the livelihoods of farmers and rural communities.
By helping protect the environment and people, AGRA's programmes and Environment and Social Management System are helping to make Ghana more food secure, achieve the Sustainable Development Goals, and successfully reach its climate change and biodiversity management targets. More importantly AGRA's work is aimed at supporting the Government of Ghana attain its development aspirations as set out in its Shared Growth and Development Agenda (GSGDA) II, Poverty Reduction Strategy (GPRS) III, and its Medium-Term National Development Plan (MTNDP).
AGRA acknowledges the support it has received from KfW in the development and implementation of its Environment and Social Management System
Happy World Environment Day!