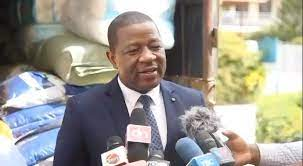 SINGIDA – In a significant move towards bolstering the livestock sector in the region, Hon. Abdallah Ulega, Tanzania's Minister of Livestock and Fisheries, has unveiled plans to establish ten (10) new cattle dips in Singida North.
The announcement was made during a special address by Minister Ulega at the reception of the President of the United Republic of Tanzania, H.E. Dr. Samia Suluhu Hassan. The President is currently on an official tour in Singida.
This progressive initiative is a direct response to the call made by Singida North's Member of Parliament, Hon. Abeid Ighondo, highlighting the region's demand and emphasizing its importance for the local farmers and the livestock industry.
Tanzania Livestock Sector Transformation Plan (LSTP) for 2022/23 – 2026/27, it's highlighted that the country boasts 2,211 cattle dips. Yet, a mere 1,006 of these are currently in operation.
Recognizing the pivotal role cattle dips play in ensuring the health of domestic animals, the government is proactively spearheading efforts to both refurbish existing dips and establish new ones. Signifying their commitment, a substantial US$9.1 million subsidy was allocated in 2023 for the enhancement and construction of an impressive 1,276 cattle dips.
Cattle dips serve as a fundamental measure against external parasites on cattle, including ticks and lice. These nuisances can be vectors for debilitating diseases such as East Coast fever and anaplasmosis, posing a significant threat to cattle populations.
Farmers, by consistently utilizing cattle dips, not only safeguard their livestock from potential ailments but also ensure optimal productivity levels.